GSIF visits New York Stock Exchange
The Gator Student Investment Fund (GSIF) recently traveled to New York City where they were able to pitch to various UF Warrington alumni and take a tour of the New York Stock Exchange floor. 
GSIF is a student-managed investment fund that offers members an opportunity to gain real-world asset management experience by investing the fund's capital. Founded in 2012, GSIF consists of roughly 40+ students who work together to deploy the fund's capital in value-oriented domestic equities while actively managing portfolio risk. Funds are then used to support an annual sustainable distribution to the Machen Florida Opportunity Scholarship – a committee that provides scholarships to first-generation low-income students. 
The students who attended the trip were Marek Hornak (MSF '23), Noah Lewis (MSF '23), Arina Shalobodova (MSF '24), Grant Stanish (MSF '23), Kevin Tyler (MSF '23), James Donnelly (MSF '24) and Rachel Stockel (MSF '24). Accompanying the students were Dr. David T. Brown, BB&T Professor of Free Enterprise, and Kelly Herring, director of the Hough Program in Finance. 
During the trip, students pitched GSIF's investment strategy and philosophy to experienced investors and Warrington alumni. The pitch was arranged by Rob Cousin (MBA '95) of J.P. Morgan and the alumni present included analyst at Millennium Kyle Deasy, global multi-asset portfolio manager for J.P. Morgan Jesse Rosenbaum, associate of J.P. Morgan Asset Management Scout Royce, senior managing director of Wafra Mitch Williams and founder of Zittman Family Office Mark Zittman. 
Touching on such subjects as fund mandate and approach, portfolio construction, portfolio performance and security selection, the GSIF officers walked through the team's in-depth investment theses and valuation models for various companies. 
Each member had a role on the team. Shalobodova was responsible for laying out the investment idea, thesis, and results on Atlas Air Worldwide, an air cargo company that helped GSIF experience a 20% excess return in under six months.
Hornak served as one of the four portfolio managers, as well as the head of performance attribution. His direct role related to presenting the funds performance, what risks were taken, how GSIF sized their trades and where improvements could be made. Hornak made a specific note, "The presentation process reflected the way the fund functions on a regular basis. It was a team effort and the outcome was a result of hard work from the entire group."
Preparation for the pitch was key, as Hornak explained, "We had to determine what our audience would want to learn about the fund and try to structure the pitch to resemble a 'real-life' asset manager pitch to a client. We then had to gather all the necessary data, create the presentation, iterate with Dr. Brown for his comments and finally practice delivering the presentation. We prepared for the meeting for one month, from start to finish."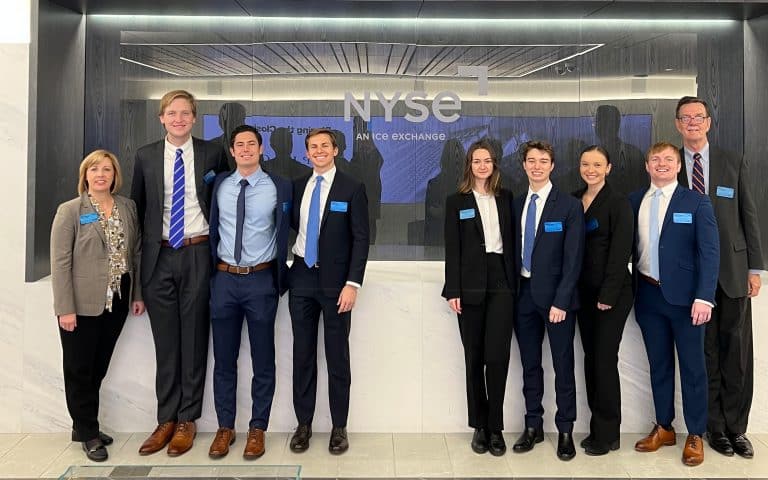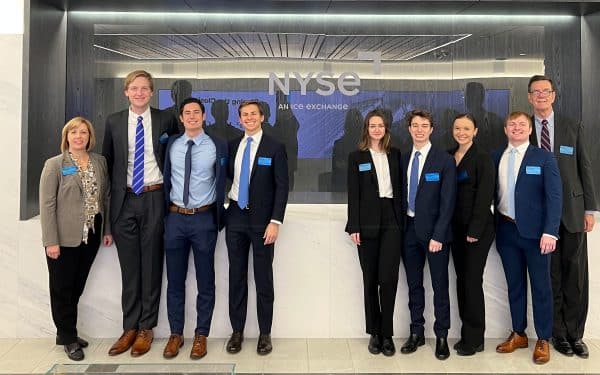 In the end, the preparation paid off. Royce (BSBA '17, MSF '18), applauded the GSIF members.
"I was very impressed by the depth in which the team conducted analysis, the rigorous investment and risk management process and the student's thoroughness and preparedness in being able to speak to each investment example or answer the panel's questions."
Likewise, Deasy (BSBA '11, MSF '12), spoke highly of the group and offered the following advice, "Keep learning and innovating. I am optimistic that technology will have profound impacts on the investment process and young professionals open to technological change could be well positioned. Continuously refine your process and borrow best practices from the old ways, but leverage new technology to maximize your productivity."
Such exercises help GSIF members establish a fundamental building block for their future careers.
"The experience of pitching GSIF's investment process in front of industry professionals with 10+ years of experience was incredibly rewarding," said Shalobodova. "The conversations provoked thought and helped me learn how to handle challenging questions, a skill that is helpful in any career."
After the pitch, the students were taken to the New York Stock Exchange floor, where they were given a tour by UF alumni and NYSE board member Scott Friedman (BSBA '01). During the tour, the students attended various presentations from insider professionals and were present for the ringing of the closing bell. 
"Understanding the function of the NYSE in the ecosystem of finance, and especially their role in facilitating the public equity market, is very useful," Hornak explained. "It was also great to see and interact with Mr. Friedman, who has become an accomplished Gator alumnus. Seeing his success was motivating and seeing his willingness to give back was inspiring."