Heavener School of Business ranks in top 20 among US publics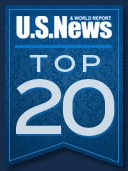 GAINESVILLE, Fla. – The Heavener School of Business was ranked 18th among all U.S. public undergraduate business schools in U.S. News & World Report's "2015 Best Colleges" edition.
The Heavener School, which ranked 29th among public and private undergraduate business schools, was also recognized for its excellence in five specialty programs: Accounting, Finance, Marketing, Quantitative Analysis and Real Estate. The Heavener School was ranked in the top 10 among U.S. publics in four of those specialty categories.
"It is gratifying to see that the academic programs offered through the Heavener School of Business continue to rank among the nation's best," said Dr. Brian Ray, Associate Dean and Director of the Heavener School of Business. "The U.S. News rankings reflect the sentiment of business school deans across the country. Many business leaders have also taken notice of the outstanding professional development programs and curricular enhancements that have been implemented for Heavener's undergraduates.
"New academic initiatives in global business, entrepreneurship, leadership, ethics, and communication skills continue to make a significant difference in the caliber of our graduates. The fact that each Heavener student is required to complete an internship or study abroad will further strengthen the national reputation of our program. Moreover, the opening of Heavener Hall in November will further enhance the experience of our talented undergraduate students."
The Heavener School also fared well in Freshman Retention Rate (96%) and 6-Year Graduation Rate (87%), ranking fifth among U.S. publics in both categories.
U.S. News surveyed deans and senior faculty at each undergraduate business program accredited by the Association to Advance Collegiate Schools of Business. Business school deans and faculty—two at each AACSB-accredited business program— were surveyed in spring 2014 for this ranking.
Participants were asked to rate the quality of all programs they were familiar with on a scale from 1 (marginal) to 5 (distinguished). The undergraduate business school and business specialty rankings are based solely on the results of this peer survey.
Here is a list of the Heavener School's impressive finishes:
Heavener School of Business
Overall: Tied for 29th
Among Publics: Tied for 18th
Accounting
Overall: 12th
Among Publics: 7th
Finance
Overall: Tied for 26th
Among Publics: Tied for 11th
Marketing
Overall: Tied for 12th
Among Publics: 9th
Quantitative Analysis
Overall: 12th
Among Publics: 7th
Real Estate
Overall: Tied for 7th
Among Publics: Tied for 4th