Knot your typical business course
MBA students learn leadership and survival skills in the Florida wilderness.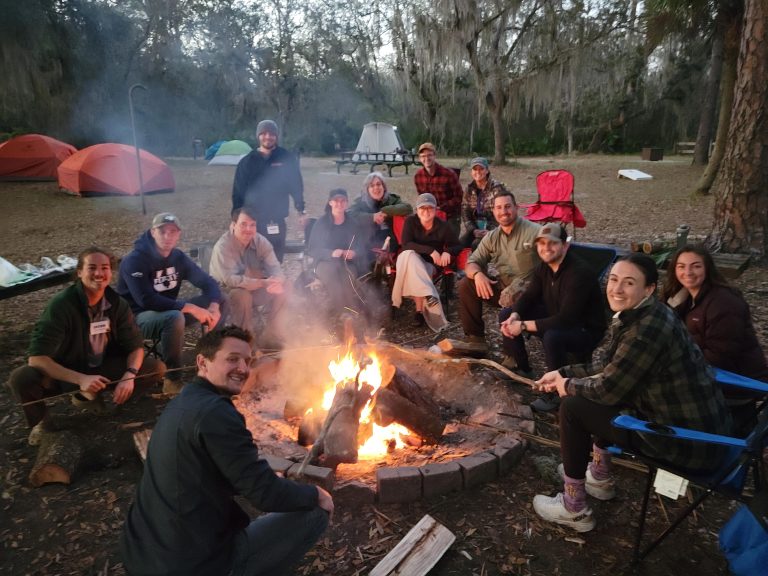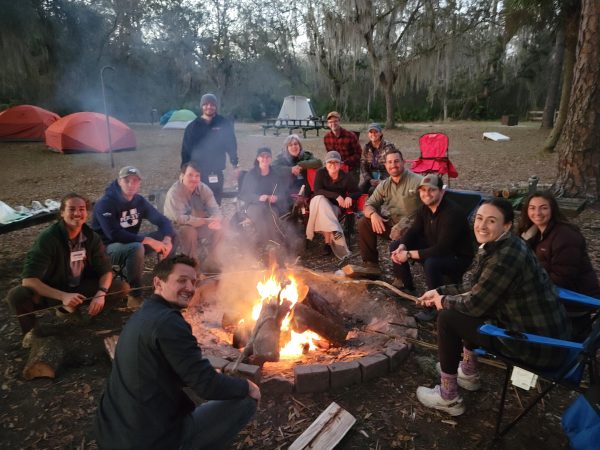 Ocala National Forest isn't a typical classroom setting for the University of Florida Warrington College of Business. Ready for a new adventure, 17 MBA students met on a campground to spend their spring break learning leadership and wilderness survival skills.
Inspiration for the Experiential Learning Opportunity: Primitive Decision Making Course (MAN6930) came about in 2021, when Dr. Judy Callahan and her husband, James, attended a primitive survival training class. Already avid outdoorsmen, the couple thoroughly enjoyed the class, taught by "Naked and Afraid" stars Brooke and Matt Wright. During the class, Judy mentioned its potential as a leadership course, and invited Brooke and Matt to help turn her idea into a reality.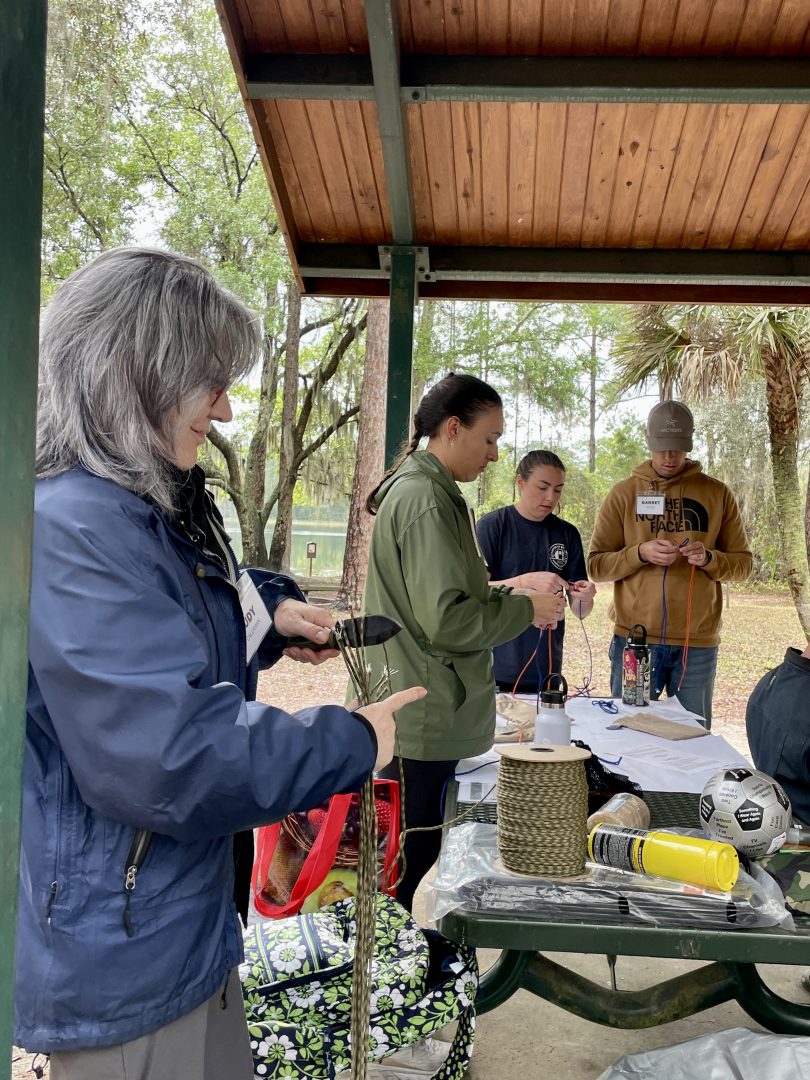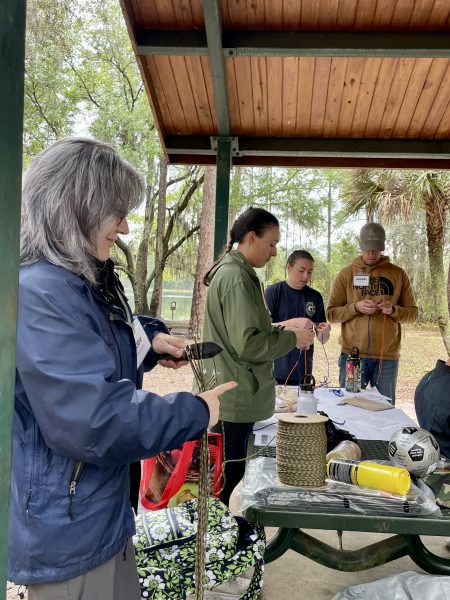 "My father died during the pandemic," Judy said. "We couldn't have a funeral, so I went outside and found that being outdoors was a great comfort to me. I also watched more TV shows during the lockdown, including 'Naked and Afraid.'
"I collected video clips of the show for teaching and became an absolute fan of Matt because every time he was a part of it his group thrived. He had this ability to put it all in perspective and frame it in a positive way. It was his attitude toward and framing of situations that made me say, 'he's got to be a part of this course.'"
Together, Judy, James, Brooke and Matt, in partnership with UF RecSport's Center for Outdoor Recreation and Education (CORE), worked to construct a plan for an experiential leadership and survival skills course. Lessons for the course included fire building, knot tying, wilderness navigation, plant identification, water purification techniques, making primitive traps, campsite selection, building primitive shelters, archery, spear throwing and more.
After lots of hard work and preparation, the course was ready for launch. Seventeen MBA students signed up, committing to spend their spring break in the wilds of Florida. But when they arrived at the campsite on their first day, a change in weather disrupted their plans.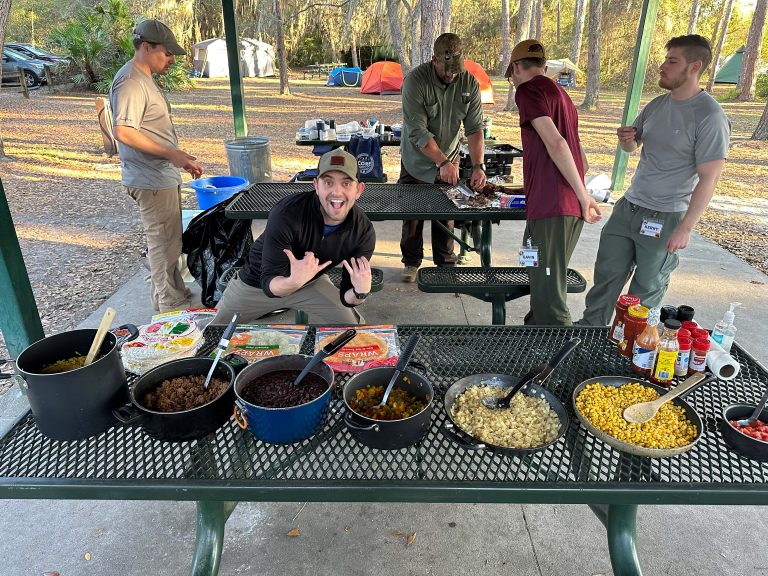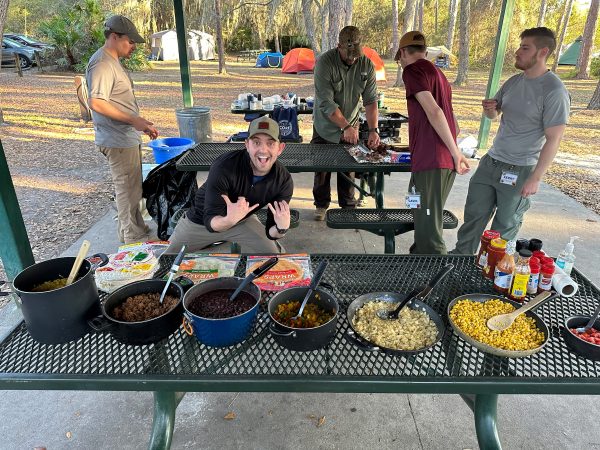 "When we first arrived at camp, it was raining!" said Susan Torres (MBA '23). "But our CORE representatives and other students immediately offered to help set up tents, and we hit the ground running. At first, we were just a group of strangers, but through the lessons and activities during the week, we all bonded and became great friends."
Making the most of the bad weather, instructors and students adapted and used the change in plans as an opportunity to band together and work as a team right away. Divided into multiple groups, students rotated leadership positions, allowing all to practice supporting their team as leaders and followers.
"It was a little daunting to be first up to lead the team, but engaging with everyone in a way that made them feel heard and important was huge," said Makenna Melanson (MBA '23). "Supporting the team came easily when we all created an environment of positivity. The positive energy spread like wildfire within our group and it affected our success in immeasurable ways."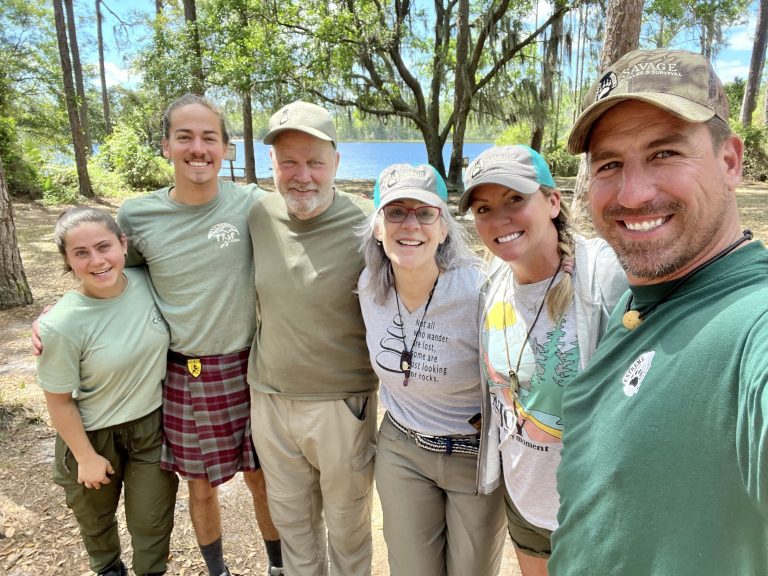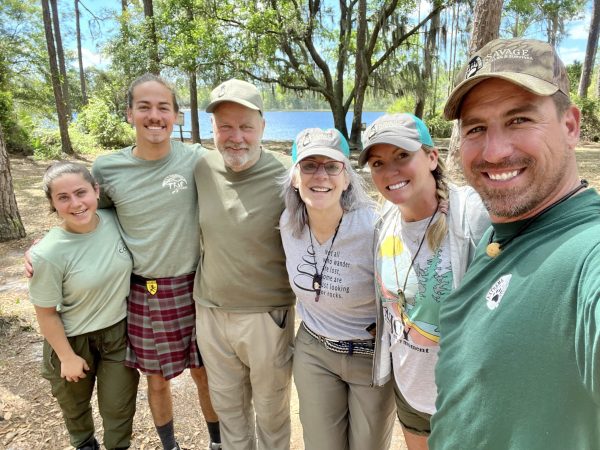 During that first day under the pavilion, instructors taught students how to tie basic knots for hunting, fishing and tenting. While they worked, they discussed decision making and the rational decision model, which says that the way you approach a problem will affect the way you make a decision.
The following days were filled with activities including carving wooden spoons, learning to build traps and snares and navigating from point A to point B, half a mile around a lake. A favorite activity from the week was building a survival shelter.
"My favorite moment of the trip was after our team had finished constructing our survival shelter out of palms and bamboo," Torres said. "All nine of us crowded inside of it and then stayed completely safe and dry while Matt and Brooke shook the shelter in a 'bear test' and dumped buckets of water on us! We were all so impressed and excited at how well the shelter held up!"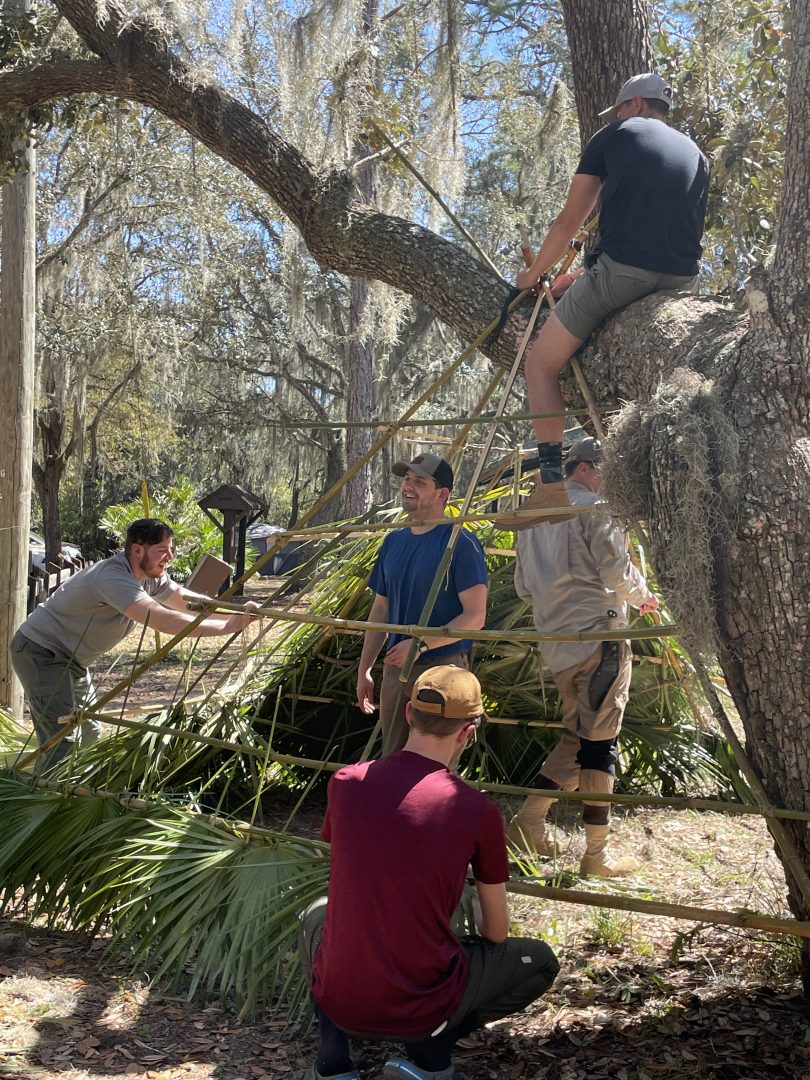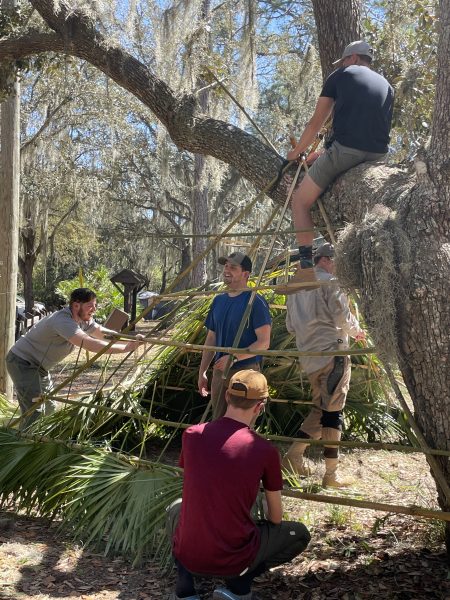 Working as a team through the different activities taught students how to take on the perspective of another, creating social learning environments that prioritized listening before judging and using individual strengths for the benefit of the group.

"Some of the most amazing moments blossomed when the students helped each other out, whether in designated groups or individual activities that presented challenges and outcome decisions," co-leader Brooke said. "The humility displayed was a sight to see. It was truly a bonding experience that brought about leadership in a natural environment."
Every night, students and instructors gathered around the campfire to share their key takeaways. On the last night, they got to share how the course benefitted them overall.
"As I get ready to graduate this coming April, I will definitely take the lessons I learned in servant leadership with me," Torres said. "From empathy to awareness to conceptualization, the tenets that applied to leading a team in fire starting will easily translate to my leadership in a professional setting."