Atlanta C-suite views | Lara Long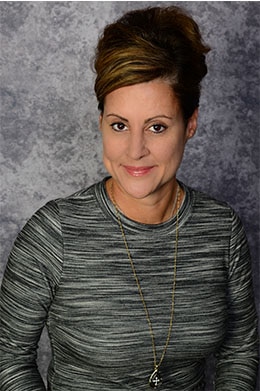 Lara Long didn't know much about accounting when she visited her then-boyfriend after her freshman year of college at UF. She planned to be a lawyer, but after not enjoying her first political science classes, she was curious what her boyfriend's parents did in New York City. His father was a tax partner with a Big 8 accounting firm, which caught her interest on the trip.
After returning to Gainesville that week, she enrolled in Introduction to Accounting and never looked back. Today, Long (BSAc, MAcc '93) is the Vice President, Chief Accounting Officer at AGCO Corporation, a Fortune 300 global company that is the third largest agricultural equipment manufacturer in the world.
After graduating from Fisher in 1993, Long accepted an audit position at Arthur Andersen in Tampa. She spent three years there before doing a five-month secondment in Melbourne, Australia.
"I enjoyed my time so much in Melbourne that I collectively agreed with the audit practice there to move employment permanently to Australia," Long said.
That plan changed one year later when her mother suffered a series of strokes. Long decided to come back to the U.S. and accepted an audit senior position in the Atlanta office of Arthur Andersen, where she later was promoted to audit senior manager. Long later accepted an offer to be the Director of Corporate Accounting and Reporting at AGCO Corporation in June 2002 when Andersen closed internationally. She was promoted to Vice President in 2010 and then to Vice President, Chief Accounting Officer in 2017.
Her time at Warrington and Fisher played an integral role in her career.
"Warrington and Fisher School instilled a sense of pride and accountability in myself that set the foundation for the rest of my career," Long said. "I knew that much was expected of me and that I had to live up to the academic rigor and excellence of those that were instructing me and for those students who came before me.
"Fisher was the one of the first experiences where I witnessed the meaning of true integrity and leadership in academics and the way you carry yourself professionally day-to-day. I had to look the part, but I also had to know my stuff. It built a strong sense of character in me that has never left, and I'm forever grateful for that."
On the way to her successful career, Long has prioritized helping other women. She has developed young women at AGCO Corporation, supported young women at Fisher with scholarships, participated in Fisher's Women in Accounting Symposium and mentored young women at minority schools in Atlanta. She chooses to lead by example for other women, especially her 13-year-old daughter.                                                  
"Madeleine Albright once said, 'there's a special place in hell for women who do not help other women.' While I may not agree with the circumstances in which Ms. Albright used this line in speeches over the years, the words have always resonated with me," Long said. "Women must lead by example and give a hand to the young women behind them to ensure that those young women have the same seat at the table as their young male counterparts. Pass it on from generation to generation. Walk the talk. Be a role model to encourage young women that they can achieve what they want with dignity, grace, smarts, wits and pride in themselves. I'm honored to sponsor their growth and path. And sponsorship is key. Be more than a mentor. Sponsor a young, high potential woman by placing her on project teams, mentioning her name and talents to executive management, and guiding her career choices."
Long remains active with her sorority sisters from Chi Omega and the other friends she made while at UF. The Gator Nation played an important part in her development as a professional, but it also provided a lifelong network and friends. She also serves on the Fisher advisory board.
"I'm an avid Gator, not only in the context of Gator athletics but in my everyday life," Long said. "No matter where I am in a country around the world, when I see a Gator, I can't help but shout "Go Gators." UF, Warrington and the Fisher School will always be a huge part of my fabric of life."