Fifth annual Gator100 honors UF entrepreneurs
GAINESVILLE, Fla. – The University of Florida recognized the 2019 Gator100 honorees on Friday, February 22 at the Reitz Union Grand Ballroom.
Presented by the UF Alumni Association and the Entrepreneurship & Innovation Center at the Warrington College of Business, the Gator100 honors the 100 fastest-growing Gator-owned or Gator-led businesses in the world. The event serves not only as a setting where UF's elite entrepreneurs can gather and share their talents and wisdom, but as an inspiration to fellow Gators to be a part of this exclusive group.
The Gator100 honorees total $6.7 billion in 2017 earned revenues, employ 64,133+ people at their companies, represent 12 states across the U.S. and includes one internationally-based company. The earliest founding date of one Gator100 companies is 1956 and 57 individuals have been recognized on the list more than once.
Gator100 companies have been in business for at least five years and have annual revenues of $250,000 or more. The Gator100 is ranked by Compound Annual Growth Rate, which is used to determine year- over-year growth over the past three years. CAGR is determined by global accounting firm Ernst & Young, which ensures confidentiality of financial submissions and the integrity of the Gator100. View the complete list of Gator100 honorees here.
Carroll Bradford, Inc. was the top-ranked company with a compound annual growth rate of 144.63 percent. The Orlando-based company is a full-service construction and landscaping company providing end-to-end solutions for commercial and residential projects. Carroll Bradford is led by Jonathan Menke, a graduate of the College of Liberal Arts & Sciences.
Foundry Commercial, led by Warrington's Paul Ellis, came in second with 110.54 percent compound annual growth. Greek House, also led by a Warrington alumnus, came in third with 109.01 percent compound annual growth. Greek House is led by Luke McGurrin and College of Agricultural and Life Sciences' graduate Karthik Shanadi.
Eco Construction, Inc., led by College of Design, Construction and Planning alumnus Patrick Murray, came in fourth place with 107.15 percent compound annual growth. First Florida Constructors, led by Herbert Wertheim College of Engineering alumnus Greg Wyka, rounded out the top 5 with 99.03 percent compound annual growth.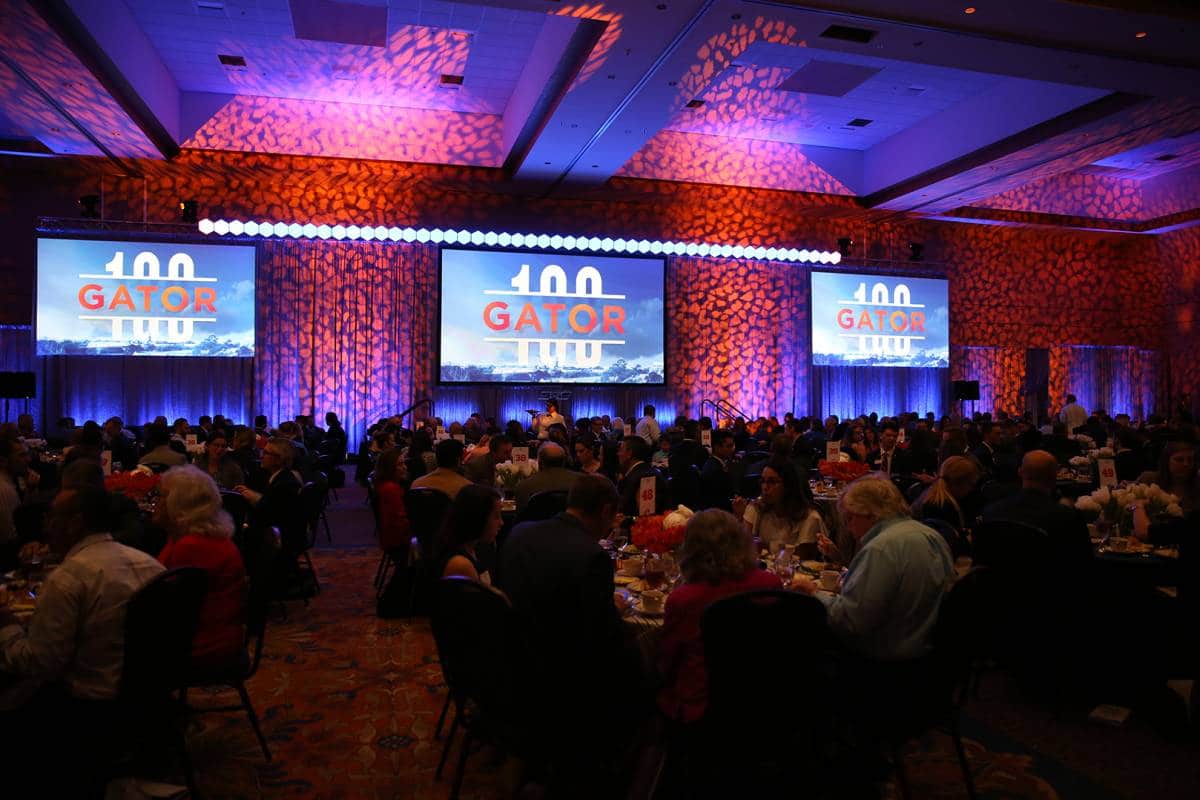 Warrington alumni Ken and Linda McGurn won the S. Clark Butler Pinnacle Award, which recognizes an established business leader who has demonstrated success in their industry. The recipient is an entrepreneur who has shown sustained excellence and leadership. The McGurns "have been instrumental in the redevelopment of downtown Gainesville from a federal 'pocket of poverty' to a thriving commercial center."
Warrington alumni represent almost half of the companies on the 2019 Gator100, with 42 of the 100 companies on the list led or owned by Business Gators. Since the Gator100 was founded in 2015, more than 150 companies led or owned by Warrington alumni have been included on the Gator100. Two of those companies, Study Edge and Highland Homes, have been on the list all 5 years.
Five of the companies in the top 10 are led by Warrington alumni. In addition to Paul Ellis of Foundry Commercial and Luke McGurrin of Greek House, Justin Bishop (BABA '00) is COO of United Energy Services, Khristian Gutierrez (BSBA '09, MSF '10) is Chief Revenue Officer of Passport Labs, and Michael Wright (BSBA '85) is CEO of Red Team Software.
In addition, eight of the top 20 are led or owned by Warrington alumni including Orangetheory Fitness (#12), Embark Safety (#18), Avant HealthCare Professionals (#20).
To qualify for the Gator100, companies must have been in business for five years or more as of Sept. 28, 2018, and have had verifiable annual revenues of $250,000 or more every year since 2015.
Additionally, a UF alumnus or alumni must have met one of the following three leadership criteria:
Owned 50 percent or more of the company from Jan. 1, 2015, through Sept. 28, 2018; or
Served as company's chief executive from Jan. 1, 2015, through Sept. 28, 2018; or
Founded the company and been active as a member of the most senior management team from Jan. 1, 2015, through Sept. 28, 2018.