Why medical professionals should consider an MBA
As you might expect, business acumen is pervasive throughout many other industries, like engineering, law and health care. If you're currently in one of those fields, you might be considering boosting your business knowledge with an MBA to help you get ahead. But what exactly will you gain from an MBA? In this series, we talk with MBA alumni and current students across each of these fields about how they are putting their business knowledge to use. After you read from them about how they benefitted from an MBA, request information about how you can do the same.
We asked UF MBA alumni and current students that work as doctors, nurses, pharmacists and at health care companies why they decided to pursue an MBA and how their business education is benefitting them in their career.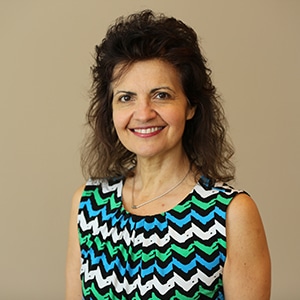 Connie Maggi, BA Communications and Spanish '81 (Rollins College), MS Human Nutrition & Nutritional Biology '95 (University of Chicago), MD '99 (University of Illinois at Chicago), MPH '03 (Nova Southeastern University), MBA '19 – Lead Medical Director
For Dr. Maggi, she knew an MBA would be essential when she attended her first business meeting after being promoted to a supervisory position at the major health insurance company she works for.
"At the first meeting, it was painfully obvious to me that I really did not have an understanding of the business concepts or vocabulary to be able to meaningfully contribute to the discussion," she said. "It was like I was listening to another language!"
"This is a reality for many physicians who suddenly have to enter into a financial discussion," she said. "Medical school does not teach business concepts to medical students who will become physicians. Yet, it does benefit physicians to have an understanding of business concepts and finance."
Dr. Maggi explains that even though physicians don't learn about business concepts in medical school, having business knowledge only makes them a better doctor.
"The physician seeing patients benefits by understanding the costs the patients experience as well as costs of the treatments, medical supplies and personnel, as running an office or being part of a group practice requires practical business knowledge," she said. "The research physician needs to understand the financial realities of research while physicians who go into an administrative capacity require an understanding of fiscal responsibility. The reality is in any field of medicine a greater knowledge base of the financial impacts in their position can only make a better-informed physician."
Dr. Maggi has been able to put the business knowledge she's gained in the UF MBA Executive program to use immediately, even using it in a presentation to her company's Chief Medical Officer.
"I find that I use the business knowledge daily whether via a greater understanding of information presented at meetings or being able to identify and work on solutions or improving departmental processes and performance which in the end benefits patients," she said. "I was asked to present a topic to the Chief Medical Officer and other leaders. I was able to use concepts learned directly from my classes to create a successful and well-received presentation that was educational for all."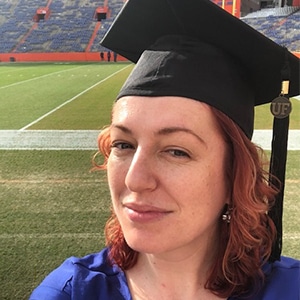 Heather Petrie, BS Food Science and Human Nutrition '07, PharmD '11, MBA '18 – Staff/Clinical Pharmacist, Advent Health Kissimmee
Dr. Petrie's aspirations to continue to climb the ladder in her career and progress her knowledge of business lead her to the UF MBA program.
"Within hospital pharmacy, I decided to pursue my MBA as a way to advance my career by learning the financial and managerial side of business," she said. "As a Staff/Clinical Pharmacist now, I can move into an operations manager position in the near future and then a regional manager, or even a CEO position someday."
With a greater understanding of the business world under her belt thanks to her time in the UF MBA Professional 2-Year Program, Dr. Petrie knows she's prepared to take on whatever path is presented to her.
One of the best lessons Dr. Petrie learned during her time in the UF MBA program that is translatable to any role is how to work on a team.
"There are always challenges, as everyone has different skill sets and a certain capacity to take information and apply it appropriately," she said.
Learning how to overcome those challenges through teamwork is paramount, Dr. Petrie said.
"Understanding the dynamics of your team is so important to creating a cohesive and positive team," she said.
Dr. Petrie described how looking at her team's workflow helped make everything and everyone run more efficiently and effectively.
"In my current position at the hospital, I work with a variety of personalities and high-intensity situations," she said. "I have learned how to find the strengths in others and help them to apply those strengths to make them most effective in completing tasks, which can make the team better overall.
"The pharmacy technicians were having workflow issues and some were getting overwhelmed, so I looked at their daily tasks and helped them to better organize their tasks in accordance with time limits and patient care to make the day less stressful and more effective for all."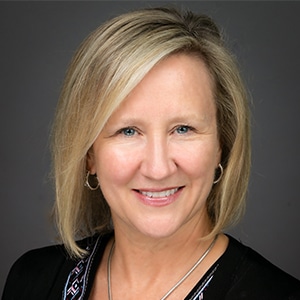 Kim Herold, BS Nursing (East Carolina University) '95, MBA '16, RN Critical Care, Licensed Healthcare Risk Manager, PMP and Lean Six Sigma (Black Belt) certified – Associate Vice President, Clinical Solutions Success Management, HealthStream, Inc.
After years in clinical nursing and nursing management, Kim Herold discovered a new passion for operations when she moved into a consultant role.
"As a consultant I got to be involved in so many areas in the hospital that I had only been exposed to at a cursory level as a nurse," she said. "I learned that I had a real passion for improving operations and making systems work better. The icing on the cake for me was that by doing so, I could have significant positive impact on the lives of my colleagues still performing patient care.
"Any time you can make the caregiver's role easier and more streamlined, that gives them more time with their patients and leads to better patient outcomes!"
She then realized the next logical step was to pursue an MBA. While she initially had the goal of becoming a hospital Chief Operating Officer thanks to her Executive MBA from the University of Florida, an even more intriguing opportunity presented itself halfway through the completion of her MBA.
"HealthStream approached me about developing a year-long Nurse Residency program to offer to their hospital customers," she said. "What a terrific opportunity, to get to directly impact the future of my profession by helping new graduate nurses get a better start in their careers! At the time, such programs were just beginning to gain traction in the market, and my job was to build from scratch a program that could compete with major players in the industry."
Herold credits her UF MBA courses in marketing, operations, business development, organizational psychology, statistics and finance with helping her successfully manage the project over the three years it took to build. The results highlight how impactful her MBA knowledge would be.
"The product is now operational in hospitals all over the country, and our customers are achieving their goals and attaining industry recognized accreditation for their residency programs," she said.
Herold's MBA was also important in helping her continue to climb the ladder.
"In December 2018 I was promoted into my current role, where I will build and lead a new team of Client Success Managers focused on helping our customers achieve their strategic goals and solve big problems using our growing array of innovative clinical products," she said. "Having an MBA definitely gave me the competitive edge that opened up a world of career opportunities for me that I might never have even considered."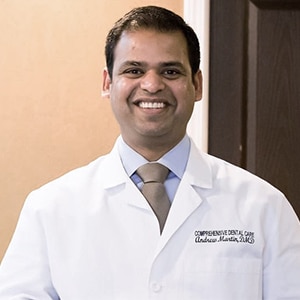 Andrew Martin, BS Microbiology and Cell Science, BS Chemistry (Biochemistry), MBA '16, DMD (University of Pittsburgh) – Dentist and Owner, Comprehensive Dental Care
For Dr. Martin, being confident in more than just his dental skills was an important factor in why he wanted to pursue an MBA.
"Being a dentist and a small business owner, I realized I was well trained to treat patients but sorely lacking in my ability to run a business," he said.
Dr. Martin understood that having his own knowledge to run his dental practice without having to turn to consultants was the key to his success.
"I own and operate two dental practices and had to do everything from marketing my practices, to the accounting, payroll, and strategic planning for both offices," he said.  "I was spending a lot of money on consultants who came in and gave me industry norms that weren't exactly what I was needing. I needed to be able to evaluate individual situations and make informed and educated decisions."
Thanks to the UF MBA Executive program, Dr. Martin has been able to streamline his business processes and operate more efficiently and effectively.
"I joke that my MBA is the best degree I have," he said. "I track my practice statistics much more closely and have a lot more confidence in the decisions I have made since my time at UF MBA.
"[For example,] a simple Monte Carlo simulation proved to me that bringing on an associate was a poor move in my Gainesville office. Even though the overall practice productivity would increase 100 percent of the time, my personal income would decrease about 97 percent of the time. I also use metrics to track my teams' productivity and now give much better bonuses based on actual numbers versus gut feelings."
Dr. Martin also credits UF MBA courses with making him a better communicator with his staff and patients.
"I think the mandatory business writing and presentation classes were wonderful and have helped me tremendously," he said.
---
Want to learn more about how an MBA can benefit your career in health care? Request information about UF MBA today.