Entrepreneurship program wins national honor
GAINESVILLE, Fla. – The University of Florida's Young Entrepreneurs for Leadership and Sustainability (YELS) Summer Program won the United States Association for Small Business and Entrepreneurship (USASBE) 2016 Excellence in Entrepreneurship Education—Outstanding Specialty Entrepreneurship Program Award on Jan. 11 during USASBE's 2016 Conference in San Diego.
YELS, offered by the Entrepreneurship & Innovation Center at the Warrington College of Business, is a summer program designed for college-bound high school students where they spend four weeks on UF's campus learning about entrepreneurship and social entrepreneurship. Among the activities available to students are taking two college-level courses, completing 60-plus hours of community service, participating in a mentor program with local entrepreneurs, social entrepreneurs and leaders, a speaker series, and numerous field trips and venture visits.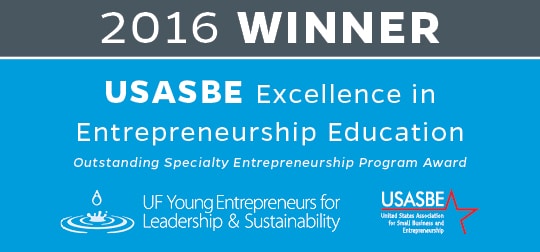 The Outstanding Specialty Entrepreneurship Program Award is given to a college or university "that has developed and currently still offers a high quality and innovative program (i.e., compilation or series of courses at either the undergraduate or graduate level), the purpose of which is to educate and train future generations of entrepreneurs in a niche or specialty area."
"It would be an understatement to say that it's a tremendous honor," said Dr. Kristin Joos, founding director of YELS. "It's truly a gift for me to help bring this award home for the Center. I've devoted nearly two decades of my life to creating opportunities for students to learn about social entrepreneurship with YELS being the pinnacle of my work. I love what I do, and it's truly a pleasure, privilege, honor and joy to work with students in this capacity. I cannot take credit for YELS winning this award– it belongs to the hundreds of people who give of their time, talent, and energy to make YELS possible each summer; YELS would not exist without the support of so many people—both on campus and in the community."
YELS, celebrating its 10th anniversary in 2016, had been a finalist for this award the previous two years. Dr. Joos said the program's longevity, in addition to its quality and impact, surely influenced the judges.
"A program that has been around for 10 years clearly is sustainable," said Dr. Joos, "and the stories shared by our alumni illustrate that we've made a significant impact on the lives of hundreds of students over the past decade."
More than 300 students have participated in YELS with incredible results:
• 30,990 Hours of community service at a value of $677,492
• 76 Nonprofit organizations helped
• 1,337 Tons of carbon saved
• 1,800 College credits earned
• 593 Opportunities to meet with and learn from entrepreneurs, social entrepreneurs, and leaders (nearly all of whom are UF alumni)
Additionally, about 30 percent of YELS alumni (whose average age is 16) launch a business, organization or club a year after completing the program.
Applications for the 2016 YELS Summer Program (June 19 to July 15) are currently being accepted. Visit UF Young Entrepreneurs for Leadership & Sustainability or email for more information.