New Betsy Goodman Retail Scholarship continues the legacy of 19-year Warrington retail educator
Betsy Goodman knew how to light up a room. With her infectious smile, she radiated positivity. Ask anyone who knew Goodman, and they'll describe the Warrington retail educator who passed in early November in the same way.
Even when the pandemic halted in-person meetings, Goodman still found a way to brighten the days of those she interacted with.
"Betsy always came into the office on Friday mornings singing 'It's Friday, it's Friday, it's my favorite day, it's my favorite day!'" said Margaret Jones, Office Depot Program Director in the David F. Miller Retail Center. "When we stopped coming into the office, I mentioned that I missed her singing this. Betsy then began texting me the song on Fridays. This always brought a smile to my face. 
"She was always happy and wanted to spread happiness wherever she went."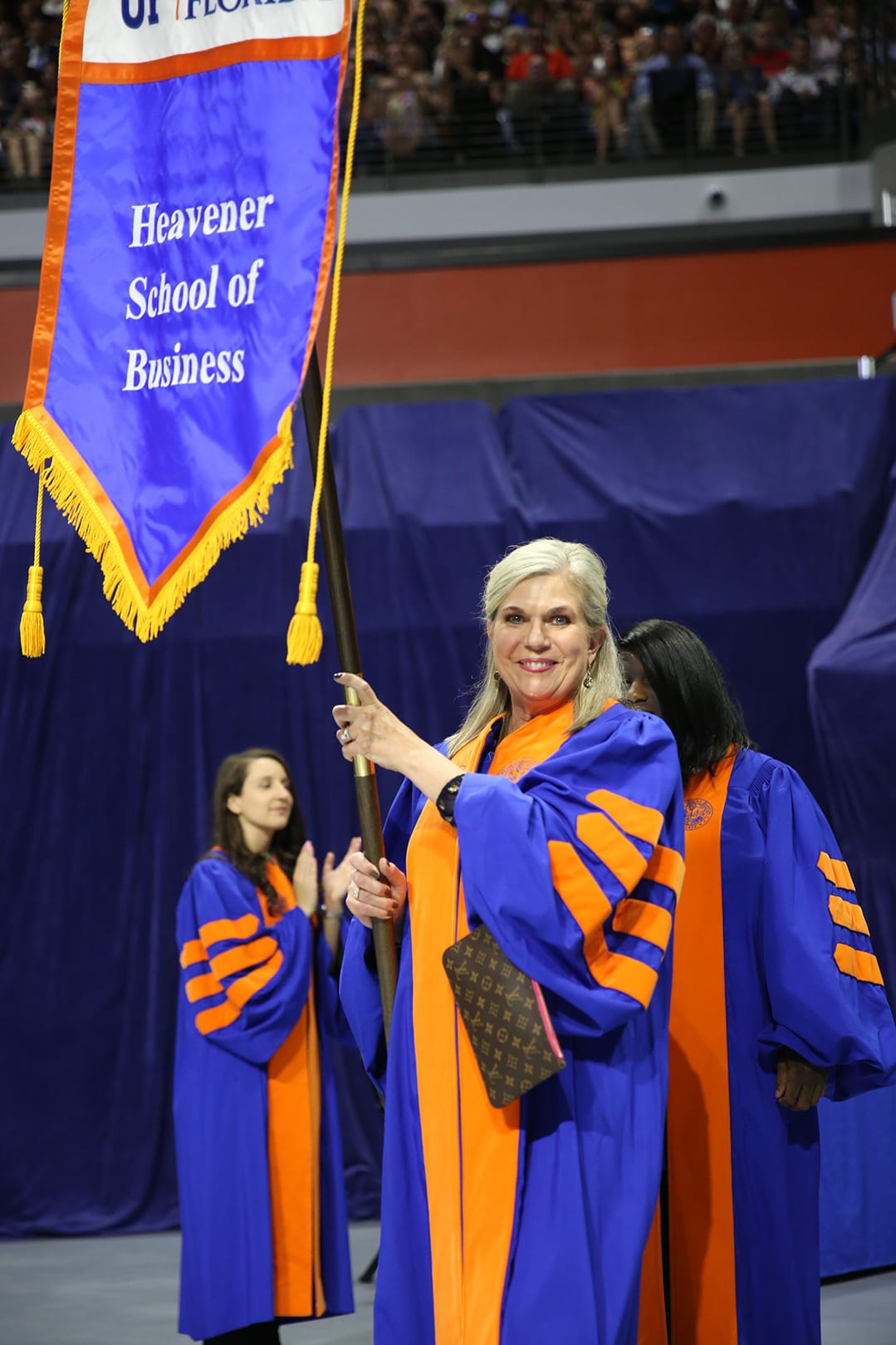 Jones' colleague in the Miller Retail Center Cece Schulz, Director of Student Engagement, echoed this sentiment.
"I will always remember Betsy as the bright light in the room who could always be positive no matter the situation," she said.
Senior Associate Dean and Director of the Hough Graduate School of Business Selcuk Erenguc, who worked with Goodman during her 19-year tenure at Warrington, noted her positivity and passion for sharing about retail with students and industry professionals alike. 
"Some years ago, the David F. Miller Retail Center held its Retail Smarter Conference in Orlando," Erenguc described. "That was the first Retail Smarter Conference I attended. Betsy ran a first-rate conference. I was totally impressed by the attendance, speakers and all the other activities that took place at the meeting. 
"After that meeting, I never missed another meeting Betsy was in charge of."
In honor of Goodman's dedication and love for sharing about the possibilities of retail with students, the Warrington College of Business has established the Betsy Goodman Retail Scholarship Fund. This non-endowed memorial fund will provide partial support to a student or students studying retailing at the Warrington College of Business. The scholarship is a fitting legacy to Goodman's almost two-decades as a passionate ambassador for the David F. Miller Retail Center, the retail industry and the many students who she inspired.  
Contributions to the Betsy Goodman Retail Scholarship Fund (F025209) can be made directly on the UF Advancement website or by check payable to the UF Foundation, Inc. and mailed to Jon Cannon, UF Warrington College of Business, PO Box 117150, Gainesville, FL 32611. For more information, please contact Jon Cannon, Executive Director of Development and Alumni Affairs at jon.cannon@warrington.ufl.edu or 352-392-0381.
"She was one of the most positive people I have ever met," Erenguc said. "She had an infectious smile. I'll certainly miss her dearly."