MSF students give best solution for commercial real estate debt
Only 12 teams from 10 national universities were invited to compete at the Commercial Real Estate Finance Council's (CREFC) third annual Real Estate Debt Case Competition, and the University of Florida's team came out on top.
In October, the team of University of Florida Warrington College of Business students – Ethan Okaty (BSBA '24, MSF '25), Adam Weinberg (BSBA '24, MSF '25), Nate Marshall (BSBA '24, MSF '25), Jackson Bailey (BSBA '24, MSF '25) and Jackson Harris (BSBA '23, MSF '24) – travelled to New York City to present their case solution to a panel of senior commercial real estate executives. Making the most of the one-week window to prepare their analysis, the team crafted a strong pitch that advanced them from the preliminary round to win the competition.
"What set us apart from the other teams was our ability to distill a complex story into something that was easy to understand," Harris said. "While we could've had lots of complicated analysis, we opted to focus on simplicity as it is key when crafting an effective pitch."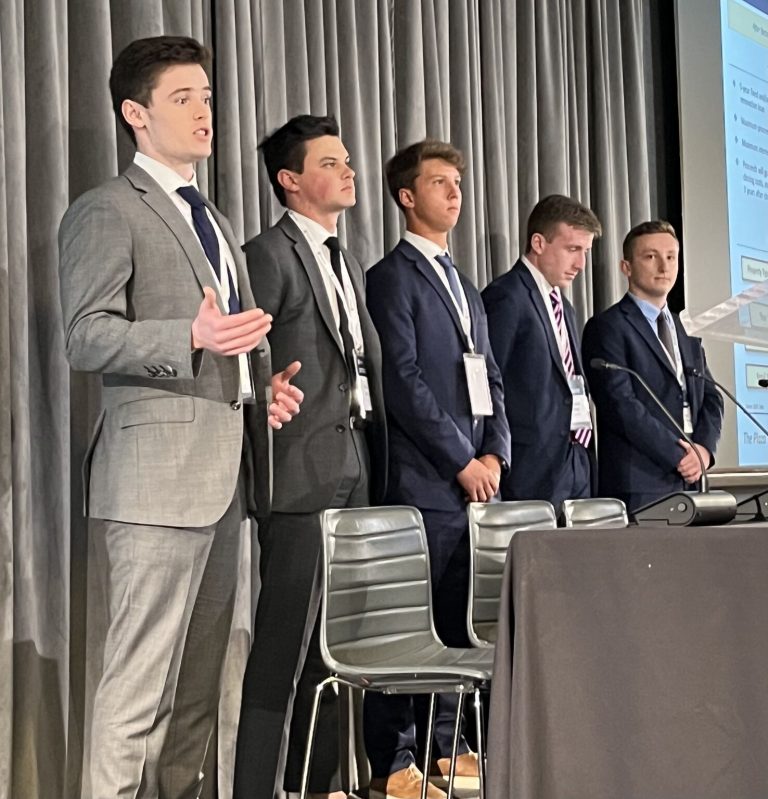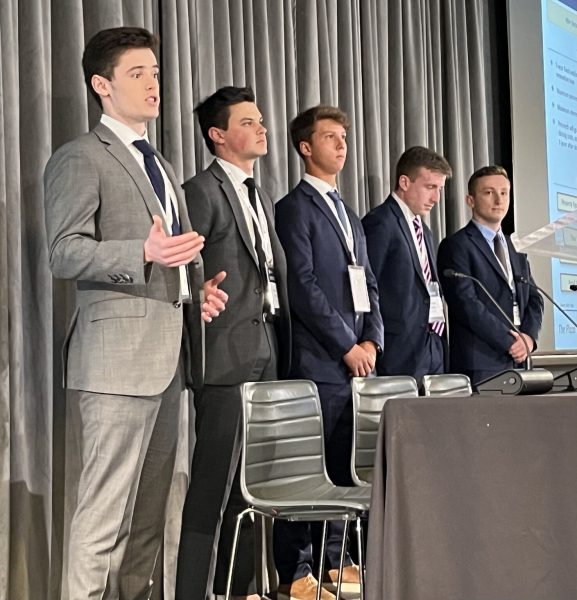 Assuming the role of a creditor, the team was challenged to evaluate an investment opportunity, based on a property's financial reports, and present a plan for loan size, interest rate and implemented covenants. The case was based on a real-world transaction, giving students exposure to commercial real estate debt and the opportunity to interact with professionals in the industry.
"This competition was challenging, exciting and rewarding," Weinberg said. "As a team, we put a lot of time into understanding the case, crafting our proposal and practicing the presentation. Figuring out the ways we could differentiate ourselves as a team and best present the story of the pitch was something we all enjoyed.
"In the end, presenting to industry professionals and being recognized for our hard work was an incredibly rewarding experience."
BB&T Professor of Free Enterprise David Brown advised the team before they received the case, preparing them for possible challenges that might arrive with the prompt. Executive Director of Applied Research at the Bergstrom Real Estate Center Bill Hughes also encouraged the team prior to their final analysis, sharing his familiarity with the property the case focused on and discussing the components of a case response.
"I was not surprised but delighted that our team won the competition," Hughes said. "These national case competitions are very competitive, and they generate sophisticated submissions. This result is a significant honor for the team, the department and the school."
After winning the competition with their succinct analysis, the team attended a networking reception to connect with the other teams from the competition, industry leaders and CREFC's Young Professionals.
"This case study provided my team and I with the unique opportunity to step into the shoes of a creditor and perform a full analysis on a real estate lending decision, and it also gave us the unique opportunity to present this decision to multiple commercial real estate executives," Bailey said. "This competition has personally provided me with a lifetime memory and opportunities within the commercial real estate space, and I'm sure my teammates and I will look back on this as a cornerstone of our college experience."
Elaine McKay (MSF '08) is on the CREFC Board of Governors and recommended the University of Florida for the invitational competition. Enthusiasm, drive and a passion to excel are hallmarks of Warrington graduates, she said, so she was confident the team would do well.
"I've always appreciated and seen the value in Warrington's commitment to finding ways for the students to interact with real world industry professionals," McKay said. "As a member of CREFC's Board I knew the competition would be one avenue that would offer real world exposure to UF students that Warrington so thoughtfully seeks to provide."